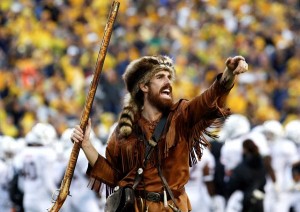 The West Virginia University Mountaineer mascot dresses in buckskins, wears a coonskin cap, and carries a musket.  As it turns out, it is a fairly effective hunting rifle.
The man behind the mascot, Jonathan Kimble, filmed himself shooting a bear with the university-issued musket last Monday and anti-hunting activists immediately went on the attack.
The University has demanded that Kimble no longer hunt with the university-issued musket. So much for the vaunted spirit of the Mountaineers.
Read more at The LA Times.