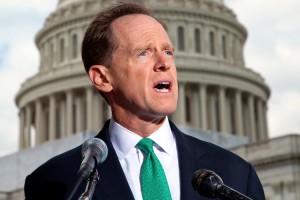 "So what does a traitor look like?"
That is a very good question.
After all, a traitor is different than an enemy.  An enemy declares himself and opposes you openly.  But in order to become a traitor, someone first needs to enjoy your trust.
Those of us in the gun rights community have plenty of enemies … people who have openly declared war on the Second Amendment and the Constitution.  Heck … practically every Democrat in the country seems to have signed up for a frontal assault on gun owners.
But to be betrayed by one of our own is not a common occurrence and when it happens, it never fails to hurt.
Today, Senator Pat Toomey of Pennsylvania betrayed gun owners.  He betrayed us by caving in to pressure from Bloomberg and the Obama Administration and putting forward a supposed "compromise" bill with New York Democratic Senator Chuck Schumer and West Virginia Democratic Senator Joe Manchin.
Read more at John Pierce's Monachus Lex.