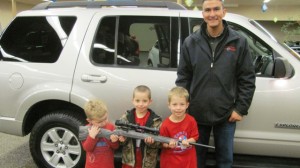 In what can only be described as a brilliant marketing move, The Mountain Home Auto Ranch in Mountain Home, Idaho is offering to pay $400 toward the purchase of any firearm if you buy a new truck there.
Based on the number of pictures posted online and around the dealership, it appears that people are flocking to take advantage of the deal. A spokesperson for the dealership notes that they have spent $60,000 on guns this year alone. It makes me wish I lived in Idaho. Perhaps some local Virginia dealers should take notice.
Read more at Jalopnik.