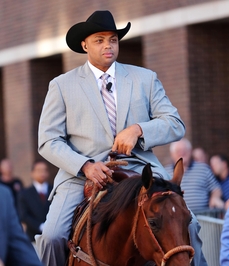 "[I've] carried a gun in my car, every day of my life since I was 21 or 22 … never had to use it … it would take extreme circumstances for me to even touch it."
– Charles Barkley
Basketball legend Sir Charles Barkley was on Costas Tonight Thursday night and he told Bob Costas that he feels safer carrying a gun.  He said it gave him a "sense of peace."
He went on to note that the Jovan Belcher murder-suicide was not about guns but was about violence against women.
"I hope people don't [overemphasize the gun situation. I'm very sensitive to domestic violence because I have a daughter, and that's just one thing that I cannot accept in any shape or form whatsoever."
Read more of Sir Charles' excellent commentary at Cincinnati.com.