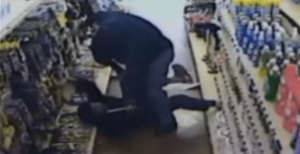 This is a common question asked by the anti-gun crowd and sometimes even by those who are not anti-gun but who are not gun owners. I thought it would be interesting to take a look at today's news from around the country to see if we can answer the question.
You might be robbed, have your throat slashed, and be beaten with hammers
This horrific crime took place in Dallas leaving the clerk fighting for his life and facing life-changing injuries.
You might be robbed and thrown onto the subway tracks
This crime, equally horrific, took place in Philadelphia where a young woman was robbed and then thrown onto the subway tracks. Thankfully, she avoided being electrocuted or struck by a train but the attacker clearly was trying to kill her.
You might be stabbed while shopping at Bed, Bath, & Beyond with your baby
This story comes to us from Middletown New Jersey where a young mother was randomly attacked while shopping with her baby. She was stabbed over a dozen times collapsing both her lungs but is expected to survive.

You might be beaten with tire irons and baseball bats after getting pizza
This story comes to us from the gun-control paradise of New York, Greenwich Village to be exact. The victim was leaving a pizza parlor when he was set upon by a group of men who beat him nearly to death.
What is even more interesting about these particular crimes is that not one of the assailants used a gun. We don't have a gun problem in this country but we do have a crime problem and each one of these victims might have been saved if they had been armed themselves.
The wolves walk among us and the only thing protecting you and your loved ones is statistics. One day the predator's eyes will flick toward you … and you had better be ready.