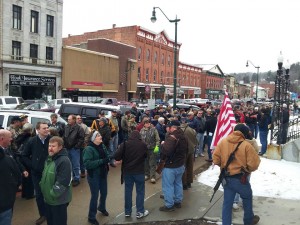 I want to tell you about a wonderful family event that took place in Brookville Pennsylvania yesterday.
It was called the Brookville Open Carry Walk and so many people showed up despite the cold that the police and fire department had to stop traffic for a time.
Notably absent were any counter protestors.  Despite calls by the anti-gun group CeaseFirePA, not a single counter protestor showed up.  I guess CeaseFirePA's 7 members were busy elsewhere.
According to event organizers Adam Smith and Angel  Yount-Smith, the purpose of the event was to show that the media-backed stereotypes about gun owners are not correct.  And I have to say "mission accomplished!"
Read more and see pictures and video of the event at Monachus Lex.