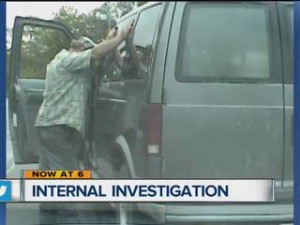 Deputy Andy Cox of the Citrus County Sheriff's Department in Florida is untouchable.
That's the news from the department today after they wrapped up an internal affairs investigation of the 2009 arrest of a permit holder for open carry after his firearm became inadvertently exposed during a traffic stop.
During the arrest, the officer repeatedly curses the man and threatens to kill him.
Citrus County Sheriff Jeffrey Dawsy says the investigation concluded that Deputy Cox was guilty of conduct unbecoming an officer but he cannot be disciplined because the investigation did not commence within the time frame allowed by law.
The Sheriff himself appears culpable in allowing this to happen since the department admits that the man arrested requested such an investigation immediately following the incident.
However, as is often the case with police misconduct, nothing happened until a video of the arrest surfaced and went viral on the internet.
The sheriff is promising that Cox and all members of the department will be retrained on how to deal with such situations more professionally in the future.
One has to wonder if that means not threatening to kill law-abiding citizens or not getting caught when doing so.
In the meantime, the victim is filing a civil rights lawsuit against the department. We wish him good luck!