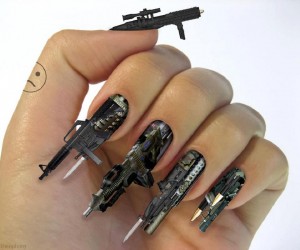 When a man entered Modern Nails in Casper Wyoming on December 3rd, he immediately raised red flags by offering to sell diamonds to the employee working the front counter.  When the employee declined his offer, he reached into his jacket and  started to pull out what witnesses could only describe as a 'silver pistol.'
But that was as far as he got because a customer, alert to the situation, already had her gun in hand.  Seeing this, the man wisely decided to flee.
Thanks to that armed customer, those present at the nail salon that day were spared at least a robbery and perhaps far worse.
Read more at The Casper Star Tribune.