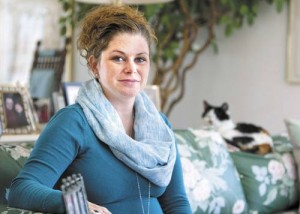 I would like for you to meet Beth Ferrizzi of Fargo North Dakota.  She is an average American women who considers herself a law-abiding and even upstanding citizen. She is married to Air Force Master Sergeant Joe Ferrizzi and they are expecting their second child.
Joe, who is deployed to Honduras serving his country, was recently able to meet Beth and their 6 year old daughter in Pennsylvania for a family visit.  He also wanted to show her the Philadelphia neighborhood where he grew up.  It was to be a happy family reunion between a soldier and his girl.  What could be more American than that?
But now, she has an arrest record and is facing a felony charge that could imprison her for up to 15 years.
How could this happen in a supposedly 'free' country?
Read more at John Pierce's Monachus Lex.