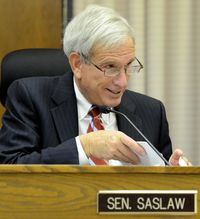 As Minority Leader, Virginia Senator Dick Saslaw (D-35th) may be the most powerful Democrat in the Virginia General Assembly but, try as he might, he cannot seem to strip those pesky citizens of their gun rights.
Last week at a legislative forum held at Alexandria City Hall, he spent a great deal of time complaining about his inability to "get sensible gun control."
Saslaw, who represents Alexandria and parts of Fairfax County, specifically called out the Virginia Citizens Defense League as the force behind much of the pro-gun successes in Virginia.  He noted that, of the 39 pro-gun bills last session, the NRA was involved in only 4 and VCDL shepherded the rest.
DC born Saslaw has not made any secret of his disdain for gun owners in the past. Perhaps most famously, he was overheard by yours truly calling them 'the cast of deliverance' during the 2008 legislative session.
Read more at Patch.com.