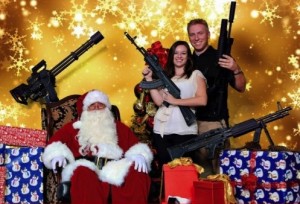 Every year the Scottsdale Gun Club in Scottsdale Arizona hosts a fun and unique Christmas event that is sure to drive anti-gunners crazy.
If you are near Scottsdale this Christmas season, come on down to the club on December 2nd between 10AM and 4PM and pose with Santa and his NFA collection.
Imagine the joy you will bring to friends and family when your postcard features junior holding a SAW and little Becky with a belt-fed.
But don't be late, Santa will only be there that one day and then its back to the North Pole to finish mounting a GAU-8 Avenger on his sled in time for Christmas.
Merry Christmas fellow gun lovers!
Read more at the Scottsdale Gun Club website