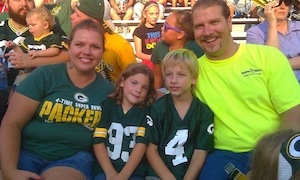 I received the following heartbreaking message over the weekend from Bobby Cleveland, owner of OpenCarry.org Sponsor Cleveland's Holsters about the Gutenberger family.
Many in the open carry community may know Gabe.  He is a Wisconsin Carry, Inc. volunteer instructor and has helped many Wisconsin resident get their permits.  They don't come any better than Gabe and now he needs our help!
Please read Bobby's message and help if you can!
"It is with great sadness that we share with you the tragedy that has fallen upon the Gutenberger family. Gabe & Stephanie Gutenberger were involved in a serious car accident on Friday and Stephanie did not survive this accident.
This tragic event has left a husband without his wife and children without their mother. During this emotional time Gabe will be focused on mending his soul and that of his children, and I am sure finances are the last thing on his mind.
We have set up a PayPal account to send financial support to, gabe@clevelandsholsters.com
Please be sure to send your contributions as personal gift so that all of your gift is received by the Gutenberger family.
Any help you can send to this family would make a huge difference! Yes, even $5 would make a positive impact!
For those of you that pray, please send those too!
Bobby"