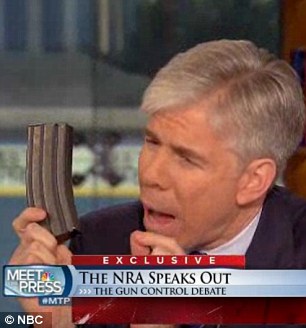 Last Sunday, in a Meet The Press interview with NRA Executive Vice-President Wayne LaPierre, NBC's David Gregory repeatedly held up a 30 round magazine to illustrate his point that there should be a law against possessing such accessories.
The problem?  There IS a law in DC where the NBC studio is located. That law, like many of the draconian laws in DC that Gregory is a champion of, is very clear on what is prohibited:
D.C. Official Code § 7-2506.01
(b) No person in the District shall possess, sell, or transfer any large capacity ammunition feeding device regardless of whether the device is attached to a firearm. For the purposes of this subsection, the term large capacity ammunition feeding device means a magazine, belt, drum, feed strip, or similar device that has a capacity of, or that can be readily restored or converted to accept, more than 10 rounds of ammunition. The term large capacity ammunition feeding device shall not include an attached tubular device designed to accept, and capable of operating only with, .22 caliber rimfire ammunition.."
The law makes no exception for self-righteous news commentators and Gregory cannot even claim ignorance of the law since his office reportedly contacted the DC Metropolitan Police Department prior to the show and were told that it was illegal in the District. Noted gun rights activist Ed Levine contacted the MPD and received the following response:
Read more at Monachus Lex.