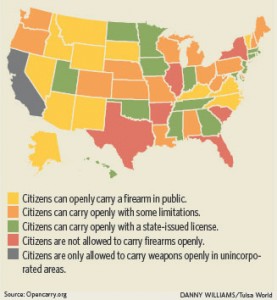 While many reporters confuse the numbers and the issues involved, Jarrell Wade from TulsaWorld took the time to talk to us at OpenCarry.org and hits is out of the park with a great article on Oklahoma's upcoming transition to licensed open carry.
"The new law will allow permit-holders to carry their handguns out in the open. That could lead to more people calling 911 to report a person with a gun, according to law enforcement officials. And more people have been obtaining permits because of attention to the issue.
But, if anecdotal and statistical evidence from other states is any indication, those could be the only big differences in Oklahoma on Thursday, the date the open-carry law goes into effect.
Read more from this Tulsa World article