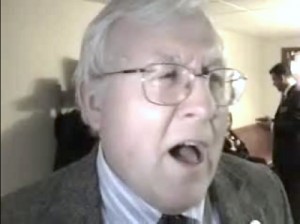 Yesterday, New Hampshire gun owners came out in force to tell Democrat Delmar Burridge what they think about his attempt to outlaw open carry in public buildings.
Of particular concern to many in attendance was the fact that Burridge's bill would make a first-time violation a class B felony.
Burridge continued to insist that a felony was a 'fair penalty' for those who engage in activity that is protected by both the First and Second Amendments to the US Constitution.
But this is not the first time that Burridge has come down against the rights of citizen advocates.
In 2007, a constituent emailed Burridge urging him to support a marijuana decriminalization bill. Rather than respond, Burridge forwarded the email to law enforcement so the constituent could be investigated.
Read more and listen to the testimony at New Hampshire Public Radio.